Disparity bridesmaids' dresses are one of the emerging trends at weddings in recent years. If you decide to incorporate this idea into your wedding, do not forget, the biggest secret of the success of this practice is on the organization of the bride. Bouquets, accessories and colors are all elements that will help you achieve a perfect look with your bridesmaids incompatible! Here are some ideas for you:
# 1: Same color but different styles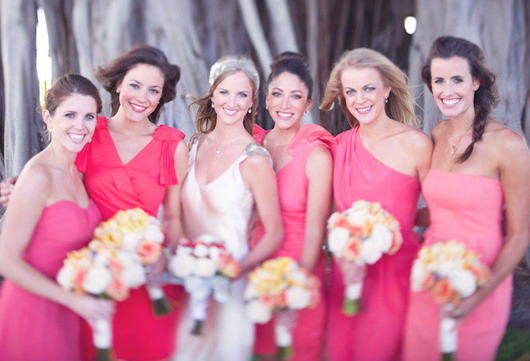 Click the photo to see more red bridesmaid dresses.

You can choose the exact color and same fabric you want. By cons, give freedom to your bridesmaids as bridesmaids to choose the style that they also need a particular style to showcase their figure! If the ideas of different styles you miss, you can visit our category bridesmaid dress : strapless boat neck, spaghetti strap dress with ruffles, halter, etc.. Lots of styles are for you to create a scene of joyous and beautiful wedding.

# 2: It remains on the same color but different shades.

Click the photo to see more blue bridesmaid dresses.
Looks to have unified while having variations, we recommend that you select a color like green, red or blue. Very often there will be a pretty nice visual rendering.

# 3: A style, different colors!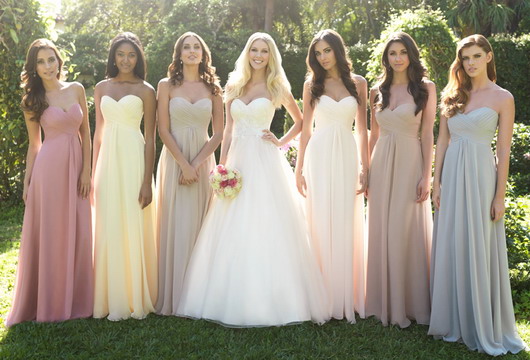 Click the photo to see more strapless bridesmaid dresses.
This option allows you to choose a style that you really like, while enriching the wedding palette! More flavors and soft feelings are naturally added. Being the only one dressed in white, you impose your image is distinguished bride.

# 4: The dresses are similar, except the accessories!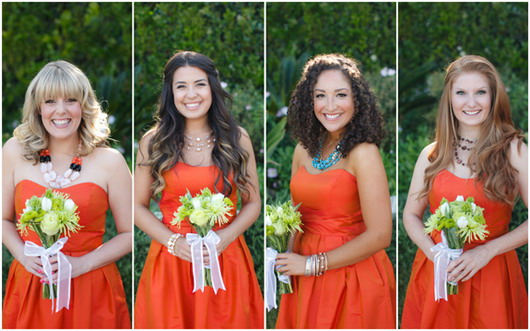 Another nice and simple idea is to keep the same dress (style and color) for all your friends, but to differentiate them with accessories like necklaces, earrings, shoes, bouquets, etc. Let's say you can have fun without limits opportunity!

# 5: Freestyle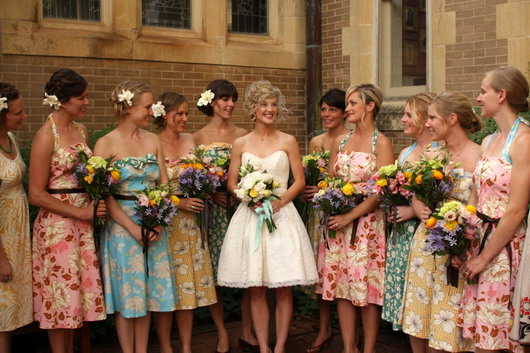 Click the photo to see more knee length bridesmaid dresses.
If you are assured sense of fashion bridesmaids, let them choose their own dresses: styles, patterns, colors, neckline, length and fabric, etc. Of course you can talk to them about your preference on the wedding theme. We believe this is the best way to get amazing photos. I hope you liked this article. Do not hesitate to tell us your personal ideas about the disparity dresses bridesmaid leaving your comment!